Old Age And Cancer
Aging has been often linked with increased incidence of cancer. The commonly accepted theory is that with age cell multiplication becomes less efficient and becomes prone to errors. Such errors increase chances of aged cells developing mutations leading to activation of oncogenes that can cause cancer. The same theory also says that, with aging, immune system becomes weak and is not able to eliminate cells that have developed such cancer causing mutations. If this is true then the incidence of cancer should rise in a linear fashion with age. If this theory is correct, the prevalence of cancer should be directly proportional to age.
Is that so? Let's look at the data.
The "Inverted U" shaped Relationship of Age with Cancer
In 1997, Italian scientists analyzed a group of 507 autopsies of elderly dead bodies. They divided these dead bodies in three age groups, 75 to 90 years, 95 to 99 years, and over 99 years. For the first group (75 to 90 years) the prevalence of cancer was 35%, for the second group (95 to 99 years) it was 20%, and for the third group (>99 years) it was 16%. 25% of the patients in the first group (75 to 90 years) died from cancer but only 9.5% of the people in the second group (95 to 99 years) and 7.1% in the third group (>99 years) died from cancer. The prevalence of metastases was 63% for tumors occurring in persons aged 75 to 90 years, 32% in persons aged 95 to 99 years, and 29% in persons aged >99 years. So, this study shows that after the age of 75 years, chances of cancer keeps declining with age.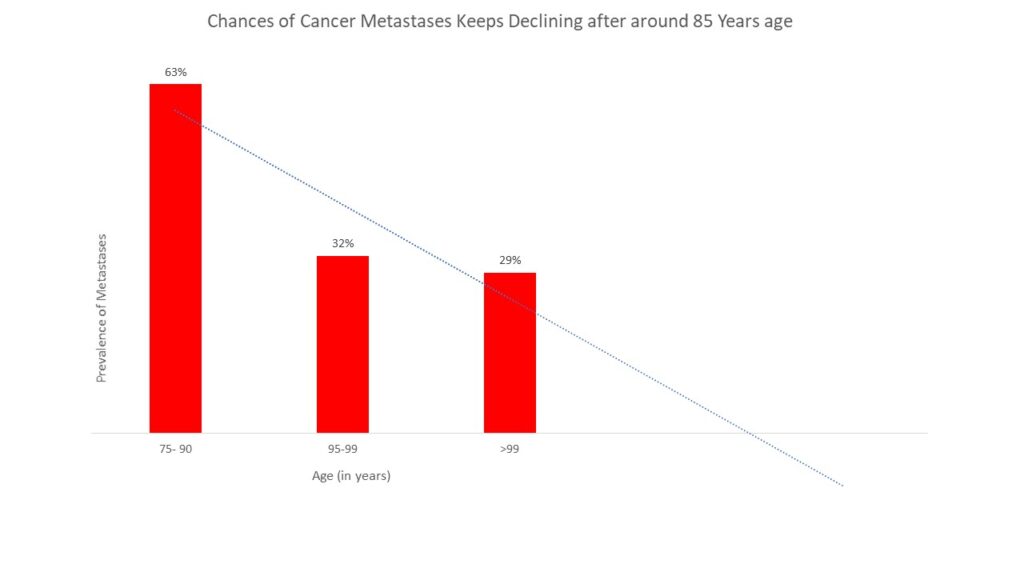 Similarly, in 2000, Dutch scientists conducted a study to evaluate cancer incidence and mortality rates among the very elderly in the Netherlands. Results showed that the annual incidence rate for all cancer sites combined reached a peak at the age of 85 years and decreased thereafter.
In their analyses, these Dutch scientists found that over the period 1991-1995, 42% of deaths in men aged 55-64 years were attributed to cancer versus 52% of deaths in women (total population); these proportions in the 95+ years age group were 11% and 7%, respectively. The conclusion was clear- cancer as a cause of death became less prominent with increasing age.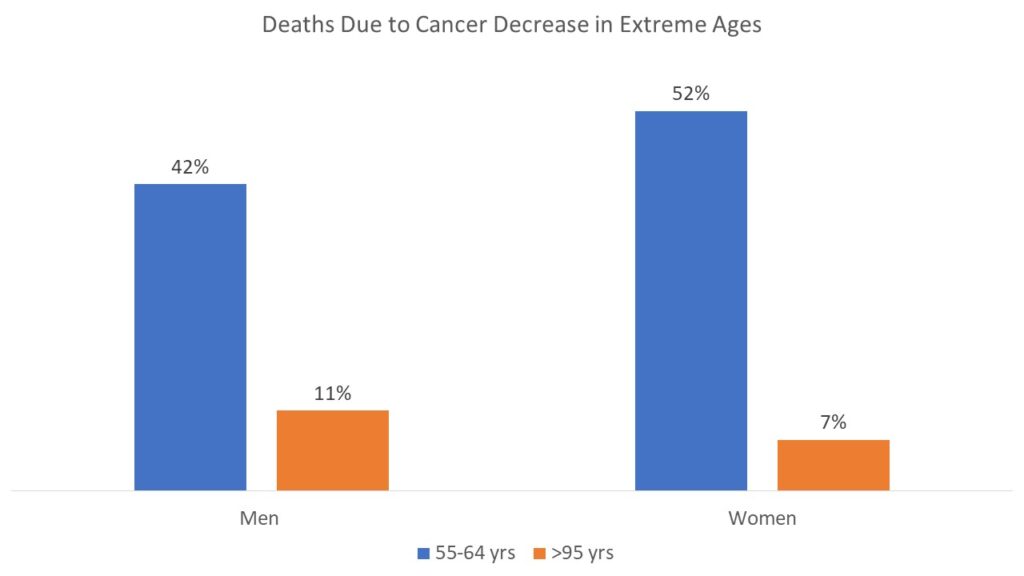 Thus cancer has a nearly "inverted U" shaped relationship with age- initially the incidence rises with age, then it starts declining after around 80- 85 years age.
Our Current Understanding of Cancer Might Be Inaccurate
So, the available data does not match the current theory regarding what causes cancer. Current theory insists that aging causes our cellular mechanisms and immune system to work inefficiently. This inefficiency predisposed our cells to acquire mutations that can activate oncogenes, thus causing cancer. But if this theory was true then we would have seen a linearly rising graph. But we are actually seeing nearly an "inverted U" shaped graph. This is because the current theory might be incorrect.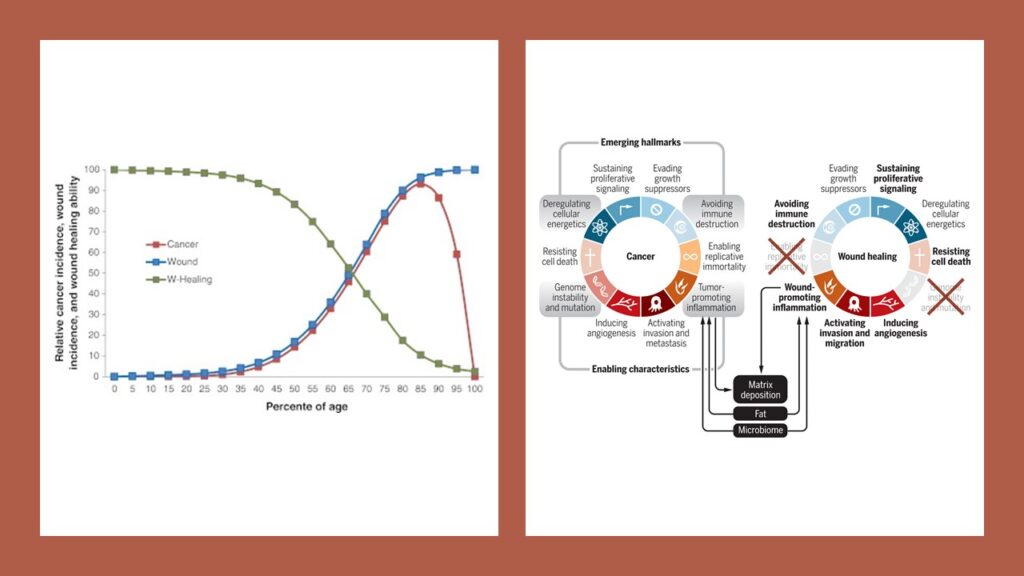 Activation of oncogenes is not an aberration. It happens all the time in our body. Without activation of oncogenes, no wound will ever heal. Without activation of oncogenes no child can grow inside a mother's womb. Without oncogenes, nothing can grow! Activation of oncogenes are dependent of certain cellular signals. When these signals go on, oncogenes get activated and the cells bearing these activated oncogenes multiply. When these signals stop, oncogenes become deactivated and the respective cells stop multiplying.
But if these cellular signals fail to switch off, oncogenes will continue remain activated and cells will keep growing. And this is what cancer is. Cancer is a result of normal wound healing process that has gone out of control. I have discussed this mechanism in a detailed way in another article which can be found in the following link. If you understand this mechanism, the mystery of cancer's "inverted U" shaped graph is no longer a mystery. With age our body keeps getting wounded more and more due to the accumulation of injuries, inflammations, infections, toxins, and cell aging. With age, the wound healing ability also keeps decreasing due to cellular aging. As wound healing keeps getting inefficient, chances of non-stop signals continuously activating oncogenes keep rising (Click HERE to understand this part) . Thus, chances of cancer increases with age. But, at very old age, wound healing ability is nearly exhausted. Instead of now generating excessive signals, suddenly all signals are sluggish and minimal. These signals now can hardly activate oncogenes. And so, you see drop in incidence of cancer after the age of around 80-85 years.
Concluding Remarks
Aging does predispose us to Cancer. But at extreme ages, chances of developing cancer goes down. This is because cancer is a result of a normal wound healing process that just goes berserk and doesn't stop. With age healing process can become aberrant and spark cancer. However, when aging is extreme (after around 80- 85 years age), wound healing process itself becomes too feeble to cause any cancer, leading to drop in cancer occurrence.